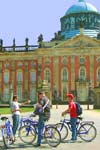 Potsdam Berlin Bike Tour
Price from $ 66.40
Potsdam is Berlin's most popular day-trip destination. Potsdam, a UNESCO world heritage site, is perfect for biking with beautiful parks and alleyways. Book tickets for our Potsdam Excursion Bike Tour here!

After we all have met at the TV-Tower at Alexanderplatz we take our bikes with us on the train to Potsdam where we cover about 16km in roughly 4,5 hours.

On our Potsdam Excursion Bike Tour we will of course see Sanssouci and explore the New Palace, Orangerie, the windmill, gardens and Fredrick the Great's famous Sanssouci Palace. We will ride through Potsdam's Brandenburg Tor and through the Dutch quarter . We will stop at Cecilienhof , where Truman, Stalin, and Churchill concluded the Potsdam Agreement during WWII(Entry and audio guide are included).
Then continue through no-man's land between West Berlin and East Germany and over the Glienicke Bridge where Cold War spy exchanges routinely took place. This tour will let you feel that Potsdam is far more than the "Versailles of Berlin ", but rather earning of its UNESCO World Heritage status in many ways.

We will stop for lunch at a suitable place along the route, hopefully at a typical Beer Garden. Lunch and drinks for lunch is NOT incl. in the ticket price!

As Berlin is a very big city and also very flat, Berlin is perfect for sightseeing on a bike. So join our Potsdam Excursion Bike Tour and see Berlin from the best way – on a bike!

IMPORTANT INFORMATIONS:
- All tours are in English
- Duration is approx. 6½ hour(incl. 2 hours in train from Berlin to Potsdam and back again)
- Food and drink at the lunch break is not incl. in the price
- The tour operates rain or shine, so please wear clothes according to the weather. You can rent rain ponchos available from the guide for €1 each!
- Children must be able to bike their own bike to participate on this tour!
- Potsdam Excursion Bike Tour starts and ends at the TV Tower on Alexanderplatz in Berlin.
Potsdam Berlin Bike Tour Info
Potsdam Berlin Bike Tour
Berlin Fat Tire Bike Tours,
TV Tower, Alexanderplatz
10178 Berlin
Info
Potsdam Berlin Bike Tour
Apr. to Oct.: Wed., Fri., Sat. & Sun. at 09.45AM
Directions
Directions
S-bahn / U-bahn Alexanderplatz Station



View map