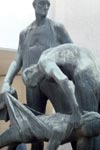 Sachsenhausen Walking Tour
Price from $ 18.40
Sachsenhausen Walking Tour outside Berlin is a tour you will remember. Here tens of thousands perished at the hands of the Nazis during World War II. Book tickets for Sachsenhausen Memorial outside Berlin here.

Sachsenhausen became a training ground for the SS and the site of the headquarters of the whole concentration camp system. After the Nazis were defeated, the Soviets used Sachsenhausen as a camp for their own political enemies – thousands more were to perish over the next five years.

Our skilled guides will respectfully address the following topics on this visit to Sachsenhausen:
-Why Sachsenhausen and the concentration camp system were established by the Nazis.
-How the conditions in the camp worsened in 1939. (Visit the barracks where many of the thousands of Jewish prisoners sent to the camp after the so-called "Kristallnacht").
-How the SS used the execution complex at Sachsenhausen to perpetrate acts of mass murder, including the killing of 10,000 Soviet POWs in 1941.
-How some Jewish prisoners survived by working in the forgery workshop, counterfeiting millions of pounds sterling.
-How the Soviets turned Sachsenhausen into a Special Camp for their own enemies after the war, who they imprisoned, and the fate of these prisoners.
-And finally, how the East German regime manipulated the history of the camp for its own ends.

IMPORTANT INFORMATION:
- The tour is in English.
- Duration is about 6 hours incl. train ride to and back from Sachsenhausen.
- The tour is on Apr. - Oct.: Tues, Thurs, Fri, and Sundays at 10.00am. Nov. - March: Tues, Fri, and Sundays at 10.00am.
- The tour starts Outside Restaurant Weihenstephaner, Neue Promenade 5, 10178 Berlin. (Opposite Hackescher Markt S-Bahn Station)!
- As this tour incl. a train ride, please bring an ABC public transport ticket or buy one from the guide (2013 Price was €3.20).
- Youth price is for all under 26 years old.
- Children under 12 years old is free if they are together with a paying adult.
- The tour is on rain or shine! So please wear clothes and shoes according to weather!
- There is no food or drinks incl. in the price!
- As there is limited possibilities to buy food and drinks inside Sacsenhausen Memorial, we advise you bring some with you.
- Our tour to Sachsenhausen Walking Tour ends at Berlin Hauptbahnhof.
Sachsenhausen Walking Tour Info
Sachsenhausen Walking Tour
Meet your guide outside the restaurant Weihenstephaner opposite Hackescher Markt S-Bahn station.
Neue Promenade 5
10178 Berlin
Info
Sachsenhausen Walking Tour
The tour departs daily at 10 AM.
Directions
Directions
The closest train station is Hackescher Markt.



View map